One of the of the key criteria when a home buyer decides to purchase the property. They have to meet the mortgage housing loan limit known as Loan-To-Value (LTV). It is simply a term to describe the housing loan quantum a bank or financial institution is willing offer as a percentage to the valuation of the property in question.
On 5-July-2018, the government announced the new revised guideline of Loan-To-Value acquisitions of residential properties on or after 6 July-2018.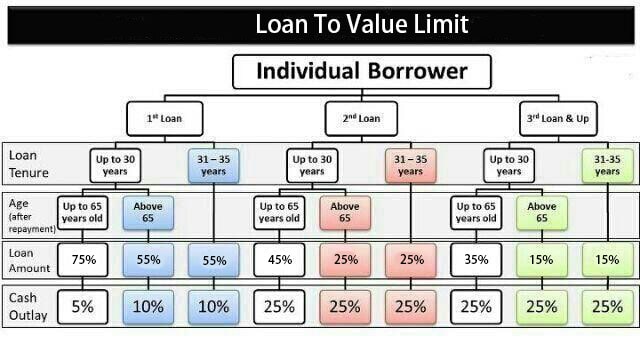 *On top of the above LTV limit, the remaining  portion of purchase property % or amount  is payable in cash/cpf subject to loan eligibility approval from relevant authorities or financial institutions. 
In addition to the above guideline, The Monetary Authority of Singapore (MAS) has introduced the Total Debt Servicing Ratio (TDSR) framework for all property loans granted by financial institutions (FIs), with effect from 29 June 2013.  Outline below is the TDSR framework :
1) 60% threshold
Total debt obligations includes credit cards, car loan, outstanding mortgage cannot exceed 60% of total income.
2) 30% haircut
There is an arbitrary 30% cut of all variable and rental income, and 30% to 70% cut for the value of eligible financial assets.
3) 3.5 or 4.5% interest rate
Calculate new loan repayments based on medium-term interest rate of 3.5% for residential properties and 4.5% for non-residential properties, or prevailing interest rate, whichever is higher.
4) Income-weighted average age
If borrower can't meet the TSDR threshold, the guarantor will be the co-borrower. Use income-weighted average age of borrowers rather than younger borrower's age to determine loan tenure.
*The information provides herein are for general reference purposes. It does not constitute any financial or investment advice.  Buyer to seek relevant authorities or financial institute for advice of any sales and purchase eligibility in making any investment or other decision.